The RJR Partnership Network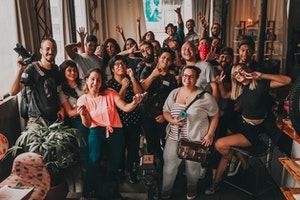 RJR Innovations is an industry leader in IT Service Management (ITSM). By aligning IT objectives with business goals, every organization can effectively accelerate productivity and ultimately provide better services to end users by implementing a variety of Business Management Solutions (BMS).
RJR Innovations has a noticeably sizable Partner Network to provide greater coverage and service to the increasing awareness and demand for your organization's business growth and corporate performance needs. RJR Innovations continuously tests and evaluates the functionalities of its Partners' Solutions to ensure that you are provided with a strong competitive advantage for your respective lines of business.  Through our Partner Network, RJR Innovations offers strategic Business Management Solutions reflective of the marketplace.
RJR Innovations can assist your organization in choosing the Solution that can facilitate and support your business goals, and provide a high degree of functionality and flexibility.
Agiloft, Inc. is a trusted provider of agile software for contract and commerce lifecycle management. Our unique platform enables our pre-built and custom modules to be tailored to your exact needs without writing custom code, so deployment times and costs are a fraction of those required for other systems.
Agiloft has grown through a strong focus on engineering excellence and absolute dedication to world-class customer service. These values reflect the talent, experience, and commitment of its employees and partners.
The Leading IT Automation Solution. Support diverse infrastructures, disparate data sources, and accelerated application development with digital business automation.
AutomationEdge is one of the first Hyperautomation platforms. It's highly advanced Intelligent Automation solution brings together all the essential technologies required for enterprise automation like Robotic Process Automation (RPA), Artificial Intelligence (AI), Machine Learning (ML), Chatbot, ETL, ready API integrations and IT Process automation.
BMC is recognized as the market leader in Business Service Management. BMC's portfolio of Business Service Management (BSM) solutions delivers a comprehensive approach and unified platform for managing IT. BSM will help you reduce IT costs, manage risk, provide transparency and enable virtualization and cloud computing.
BMC offers solutions across the entire IT organization — mainframe to distributed systems, physical to virtual, operations to support. BMC Software provides a comprehensive and unified platform that helps IT organizations cut costs, reduce risk and drive business profit.
With BeyondTrust, the Service Desk becomes more responsive, efficient and secure by removing the geographical and technological barriers between customers and those supporting them. BeyondTrust helps companies respond faster, distribute specialists more evenly, increase the productivity of current staff, and resolve incidents more cost-effectively. With BeyondTrust, the Service Desk becomes a shared virtual resource.
A trusted provider of identity-based security solutions, Entrust empowers enterprises, governments, financial institutions, citizens and websites in more than 4,000 organizations spanning 60 countries. Entrust's customer-centric focus is the foundation to delivering organizations an unmatched level of security, trust and value.
WinMagic provides the world's most secure, manageable and easy-to–use data encryption solutions. WinMagic's SecureDoc full-disk encryption solutions make it simple to protect all data on desktops, laptops, tablets and removable media including USB thumb drives, CD/DVDs, and SD Cards. Compatible with Microsoft Windows 7, Vista, XP, and 2000; Mac OS X Lion, Snow Leopard, Leopard and Tiger as well as Linux platforms, SecureDoc makes it just as easy to centrally manage and use standard drives and self-encrypting drives including Seagate and Opal compliant drives.